What happens if you take a tourist guide from the past and walk around Beyoglu?
The district of Beyoglu in Istanbul has been defined as the hub of social and cultural life starting from the Ottoman Empire to the Republic of Turkey. It is where all new things to the geography have been established from jazz to metal, from cabaret to colored film. Yet it has also been the host to many demonstrations, gatherings, and protests. Beyoglu today is characterized by commercialization and depoliticization projects with concerns of market-oriented urban developments. As it's being transformed into a homogenous space with deflated social diversity, Beyoglu is compromising on all its unique history and inhabitants. 
What has changed? What was supposed to be there? Who's not there anymore? 
The

Where Were We?

project is an animated postcard series that aim to appreciate the often forgotten layers and stories of the city. The animations pay homage to places and characters of Istanbul's Beyoglu district at various periods of time.
Frederick Bruce Thomas

, the son of former Mississippi slaves worked on the East Coast as a servant until a sense of adventure took him to London, Paris, and eventually the Russian Empire in 1899. However, with the 1917 Russian Revolution, he ended up in Istanbul with many other White Russians. After a period of adaptation to Istanbul's business life, he opened a new dancing and dinner club called

Maksim

on Siraselviler Avenue in

1921

. 
The venue was the most frequented place for both the Istanbul public and also for foreigners which were mainly soldiers, diplomats, and Russian ex-nobles. With a black jazz band and Russian dancers, Thomas is often credited with introducing Istanbullus to everything from Western-style dancing to the entire concept of public nightlife. Maksim's dancers, mainly young Russian women, taught an entire generation of Istanbullus to do the foxtrot, the shimmy, and other popular dances. In 1926, authorities banned Charleston because record numbers of people were being admitted to the hospital for sprains and bruises. This showed the rapid transformation of the city after the White Russian influx. 
After only 5 years, as other clubs started opening along the Grande Rue copying Maksim's entertainment model, Thomas had to close the club with a lot of depts. He died the following summer, as newspapers labeled him "the sultan of jazz. Maksim reopened as a nightclub called Buyuk Maksim Gazinosu from 1961 to 1992 and has become a cornerstone for the artists in the music industry. Today a parking garage is situated in its place.
In June

1941

, Turkey signed a non-aggression treaty with Germany. The same month, Hitler launched a sudden attack on the Soviet Union, opening a new front in the war. As both a neutral country and one with a geographical position at the crossing of Europe, the Soviet Union, and the Middle East, Turkey was strategic as always. Trying to figure out which direction Turkish public opinion was moving, countless freelance agents, paid operatives, and professional intelligence services, all spied on one another and hoped to turn Turkey toward their cause.
Throughout the war, there were seventeen separate foreign intelligence agencies active in Istanbul. "You could almost throw a stone out of the window of any leading hotel and hit an agent," recalled an American official about wartime Istanbul. The Park Otel, located not far from Taksim Square had particular importance due to its neighbors being German, American, and British consulates.
In 

Park Otel

's lobby, American and British businessmen walked past Japanese, Bulgarian, and German officials. It was rumored that all the rooms were bugged, and the waiters had a habit of lingering too long after taking an order or lifting the plate cover.
By 1944, the security breaches had reached such a level that American handlers wrote their own theme song called "Boo Boo Baby I'm a Spy" which was played in lounges of hotels with many undercover operatives around.
Maryam Sahinyan

, who is considered to be the first woman studio photographer in Turkey, worked at her modest studio in Galatasaray, Beyoglu in Istanbul uninterruptedly from

1935 until 1985

. She started by helping out her father until she took over the studio in 1937. This was an advantage as Sahinyan was preferred by many female clients who lived under the conservative conditions of the time. Foto Galatasaray was different from the elite studios which have been popular since the 19th century. On the contrary, it represented the middle and lower class as well as minorities and marginalized populations of Istanbul. 
Sahinyan was a devout Christian of Armenian descent, and her identity created a closely-knit circle that determined the demographics of Foto Galatasaray's clientele. These were, Istanbul's most chic women, little girls, non-Muslim families, Russians who had fled from the Bolshevik era, theatre groups, musicians, clergymen, nuns, baptized or circumcised children, transsexuals, gay couples, newlyweds, women in their underwear and many more who trusted her. Her work draws a map of ethnic, social, cultural, religious, and economic transformations taking place at the center of the city over five decades. She used the camera her father's camera from the First World War and black-and-white sheet film until her retirement. 
After Sahinyan closed the studio in 1985, the archive was transferred to storage in Beyoglu and was resurfaced 25 years later with approximately 200.000 images.
Cicek Pasaji (Flower Passage)

originally known as Cite de Pera was built in 1876 with 24 shops designed in Parisian style and 18 luxurious apartments over the shops. Among those shops were, Acemyan's tobacco shop, Maison Parret and Valloury's patisserie, Japanese shop, Pandelis' flower shop, Schumacher's bakery, Papadopulos' bindery, Keserciyan's tailor, Yorgo's tavern and Sideris' fur shop. The passage was named 'Flower' after the many White Russian women, barons, and duchesses selling flowers in the passage following the 1917 Russian Revolution. After 1940, meyhane's and pubs took over the passage which started a new era in terms of entertainment and music.
Inevitably, one of the most popular faces of the passage was

Anahit Yulanda Varan known as Madame Anahit.

She was the famous accordion player in the alleys of Beyoglu where she played her favorite tune Yildizlarin Altinda for more than 40 years until she passed away in 2003. Anahit was twenty when she heard 'Yorgos' play the accordion on Princess Island and she fell in love with the instrument. She began to play her tangos and tarantellas in the passage in the early 50s after she lost her musician husband. Never without a bright red lipstick, she was a fixture in the meyhane's where she entertained customers some of which were film stars or famous musicians. Due to that, she had small parts in some Yesilcam films as well as some music videos. 
Unfortunately, she did not always have a well-disposed public. As an Armenian woman, she had difficult times during the September 1955 events when the Istanbul mob acted violently against Greeks and other Christian communities. Anahit later said that she was disappointed to see 'people she had played the accordion for turn into wolves the same night."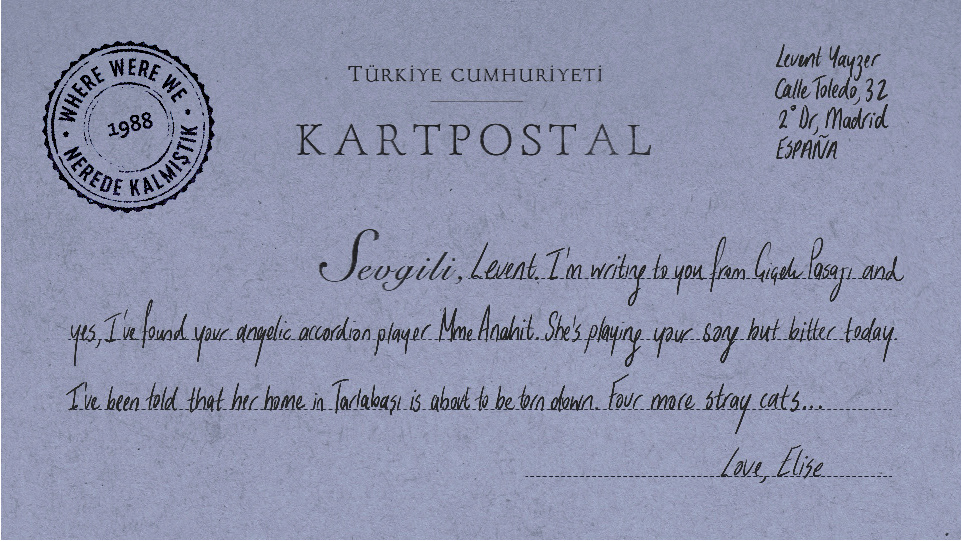 In the early days of rock and metal culture in Istanbul, metalheads were often subjected to hostile and violent reactions from the Turkish public. Istanbul's first rock bar '

The Kemanci under the bridge

' was where Istanbul's metalheads created a safe space for themselves. Sheltered under the bridge it was hidden from the curious eyes. Kemanci was opened in 1986 by two men in their 20s, Zeki Ates and Ilyas Gurel who were already regulars of the cheap beer houses under the old Galata Bridge. Zeki and Ilyas did not initially plan to open a rock bar but it was transformed into one by its regular customers who brought their own cassettes. 
When Galata Bridge burned down, the Kemanci relocated to Siraselviler Street where Zeki and Ilyas split their business. The 'New' Kemanci run by Zeki was a three-story rock club in which many rock bands and artists that became vital in the Turkish music scene performed.
Visitors would flock inside to listen to numerous rock groups, including

Blue Blues Band

, a rock group whose drummer Kerim Çapli had reached almost legendary status in his youth after performing with Jimi Hendrix and The Monkees in the U.S. The frontman of the band, Yavuz Çetin, was an equally inspiring figure, who wrote lyrics, produced a solo album and was seen as a promising new voice. Alongside them were Batu Mutlugil (guitar) and Zafer Sanli (bass) who are now the only surviving members of this legendary musical formation. In 2001 Yavuz Çetin who has been diagnosed with bipolar disorder committed suicide from the Bosporus Bridge. His suicide was a shock to Istanbul's flourishing rock scene to whose popularity he had greatly contributed.
A symbol of Istanbul's cinema culture, from 1924 to 2009 the

Emek Sinemasi

 was home to events ranging from Yesilcam galas to film festivals. The theater first opened its doors in 1924 under the name of Melek Sinemasi (Angel Cinema) because of the Art Nouveau-style angel figures on the screen.  The cinema was housed by the Cercle d'Orient building complex which was designed by Levantine architect Alexander Vallaury in 1884 and is one of Istiklal Avenue's unique structures. The Emek Sinemasi, the Melek and Iskentinj Apartment buildings, and the Ipek Cinema were added to the Cercle d'Orient's courtyard after the 1920s. 
On 2010-2013, following the theater's closure and rumors of the building's demolition, a unique uprising of resistance took place which paved the way for the Gezi Resistance. The protests were a symbol of the right to decide over the fate of the city whose cultural and historical heritage is increasingly at stake with large-scale urban transformation projects. During peaceful demonstrations against the demolition, the protestors were dispersed with water cannons and teargas. Eventually, the theatre was demolished in 2013 and is now transformed into a shopping mall.